Project Overview
The Ministry of Transportation of Ontario (MTO) is undertaking a Preliminary Design and Class Environmental Assessment (Class EA) Study for the Highway 401 Power Dam Bridge and Interchange Study. This includes the replacement of Bridge Site 13X-180/BO that carries Power Dam Drive over Highway 401. The Study will also develop the long-term plan for the interchange and establish the footprint for the future widening of Highway 401 to six lanes. The project is located in the Township of South Stormont, within the United Counties of Stormont, Dundas and Glengarry. The bridge design will consider the future widening of Highway 401, but the EA for the future widening will not be completed as part of this Study.
Highway 401 is a four-lane divided rural freeway at the Power Dam Road interchange. The interchange's current configuration does not allow for all traffic movements on to and off Highway 401. Currently traffic can exit eastbound and enter westbound at this partial interchange. Reasonable alternatives to address the required improvements will be developed and evaluated leading to the selection of the preferred alternative(s) and a Recommended Plan. The proposed bridge replacement will proceed first and interchange improvements will follow at a later date.
The map below shows the location of the proposed bridge replacement.
Study Area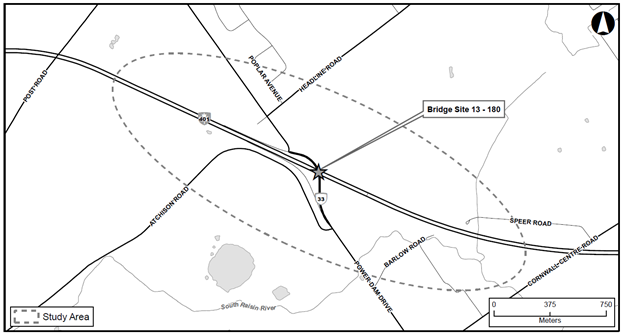 STUDY AREA MAP
Click image to enlarge